Journey through Holy Week 2017 at St Peter's Cathedral
PALM SUNDAY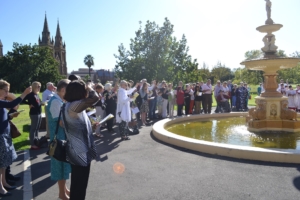 Sunday 9th April
8.00AM EUCHARIST (BCP) WITH BLESSING OF PALMS
10.15AM BLESSING & PROCESSION OF PALMS
Gather at Pennington Gardens Water Feature for the blessing of Palms and join the procession to the Cathedral.
10.30AM CHORAL EUCHARIST
With dramatic reading of the Passion according to St Matthew.
Cathedral Choir
Setting: Darke in E
 6.00PM PALM SUNDAY EVENSONG
Canticles: Howells Collegium Regale
Preacher: Dr Lynn Arnold AO
Final of the JustWater Sermon Series
HOLY WEEK 
Holy Monday 10th April
7.30am Eucharist
8.45am Morning Prayer
6.30pm Eucharist
Holy Tuesday 11th April
7.30am Eucharist
8.45am Morning Prayer
10.00am Reflection
11.30am Chrism Eucharist
Diocesan service: Blessing of Oils and Reaffirmation of Vows for Clergy and Laity.
Preacher: Bishop Tim Harris
6.30pm Eucharist

Holy Wednesday 12th April
7.30am Eucharist
8.45am Morning Prayer
10.00am Eucharist BCP
6.30pm Tenebrae
A Service of Shadows with music from Palestrina, Byrd and Walton sung by the Certain Notes Chamber Choir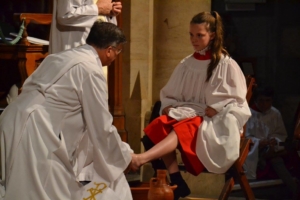 Maundy Thursday 13th April
7.30am – Holy Eucharist
8.45am – Morning Prayer
6.30pm – Choral Eucharist
Eucharist of the Last Supper with the Washing of Feet and Vigil.
Good Friday 14th April
10.00am Good Friday
St Peter's Cathedral Choir
Preacher: The Dean
3.00pm Meditation Concert
A liturgy of moving words and stirring music sung by the Cathedral Choir featuring Allegri's Miserere. Free entry, retiring collection.

Holy Saturday 15th April
Cathedral open between 9.30am and 4pm for quiet prayer & reflection.
EASTER DAY
16th April
6.00AM EASTER VIGIL WITH BAPTISMS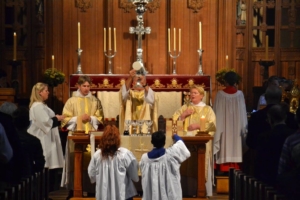 Lighting of the new fire, renewal of baptismal vows and Holy Communion.
Cathedral Choir
Music: Communion Service in C, Matthais
Preacher: Canon Jenny Wilson
8.00AM EUCHARIST (BCP)
Quiet traditional Easter Day
Service with hymns.
Preacher: Dr Lynn Arnold AO
10.00AM FESTAL CHORAL EUCHARIST
A joyful celebration with gloroius music of the resurrection of Christ.
Cathedral Choir
Setting: Haydn St Joannes de Deo
Preacher: Canon Jenny Wilson
6.00PM FESTAL CHORAL EVENSONG
A celebration in word and music featuring Bach's 'Christ Lag in Todesbanden'
Certaine Notes Chamber Choir