Cathedral Organ
The first organ at St Peter's Cathedral was built in 1876 by Bishop & Son and contained 29 stops over three manuals and pedals. This instrument was relocated in 1931 to St Augustine's Church, Unley.
The present four-manual organ was built in England in 1929 by William Hill & Son and Norman & Beard. The 32ft Double Open Diapason pipes were made in Australia and to this day are the largest organ pipes in South Australia. Its unique Romantic musical character is further influenced by the excellent acoustics, unrivalled elsewhere in Adelaide. It was dedicated on Sunday 6th July 1930.
Originally built without any casework, the façade pipes were arranged in preparation for a case to be added. The organ stood unclothed for 34 years until the lower corniced section was donated in 1963 by its designer, Walter Bagot. A further 55 years passed before the section upwards of the pipe level was finally realised in 2018. The design of the new casework was achieved by working with the original 1929 Bagot sketch, utilising modern design tools and laser cutting technology to complete the intended design economically.
The 32ft Contra Trombone was installed by George Stephens in 1989 in memory of musicians associated with the cathedral. These full-length pipes are sited opposite the main organ chamber in the liturgical south transept where the first organ once resided. These pipes are not the largest pipes in the instrument, this title goes to the 32ft Double Open Diapason, whose pipes are big enough to climb inside and stand at the back of the main organ chamber.
In 2017 the organ was shipped back to England to the workshop of Harrison & Harrison Ltd of Durham, where it was comprehensively overhauled at a cost of $1.7m. Four new stops were provided and the 32ft Contra Trombone was revoiced; these tonal revisions being based on the original pipework scaling are perfectly in keeping with the 1929 tonal aesthetic.
While the romantic style and character of the 1929 instrument has been preciously safeguarded it has been equipped with modern playing aids to allow the cathedral musicians to have an instrument fit for today's liturgical requirements. The instrument remains as one of the grandest and substantially musically unaltered organs in Australia, making it one of significant historic importance.
The organ was rededicated on Sunday 2nd December 2018.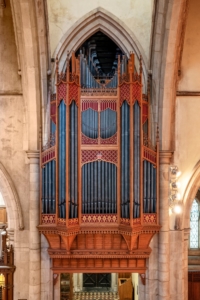 Photo credit: Chris Oaten www.insightvisuals.com.au
---
The complete restoration of the Cathedral Organ is seen as phase one of the Cathedral 150 programme – a long term conservation project to ensure the Cathedral is here for another one hundred and fifty years.
Join us as the Cathedral and Diocese look ahead to the next one hundred and fifty years of mission and ministry.
As of 2nd December 2018, when the organ was played publicly for the first time, just over $200,000 was needed to fully fund the restoration project.