✞
St Peter's Cathedral is a landmark in the City of Adelaide, an important part of the city's heritage. However, the Cathedral is much more than a beautiful historic building. It is also the mother church of the Anglican Diocese of Adelaide and home to a dynamic and inclusive sacramental community, which cherishes excellent liturgy, music and preaching

St Peter's Cathedral is open daily to visitors from Monday-Saturday, 9.30pm-4.00pm & Sundays 12.30pm-4.00pm.

Our Sunday Services are:




8.00 am – Said Holy Communion 




(Traditional language, from the Book of Common Prayer)




10.30 am – Choral Eucharist




(Contemporary language, from A Prayer Book of Australia)




6.00 pm – Choral Evensong




(Alternate weeks, traditional and contemporary language)



During the week:
Mon-Fri
7.30 am – Holy Communion
8.45 am – Morning Prayer

Wed
10.00 am – Holy Communion (BCP)
5.15 pm – Choral Evensong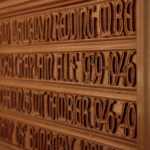 Guest Preacher: The Rev'd Dr Graeme Garratt  A disciple's eye view of Jesus 'They saw him walking on the sea.' (Mk 6:49) This weekend we have been reflecting on words of Psalm 24:1. 'The earth […]
Like, follow, watch and connect with St Peter's Cathedral online.