✞
St Peter's Cathedral is a landmark in the City of Adelaide, an important part of the city's heritage. However, the Cathedral is much more than a beautiful historic building. It is also the mother church of the Anglican Diocese of Adelaide and home to a dynamic and inclusive sacramental community, which cherishes excellent liturgy, music and preaching

St Peter's Cathedral is open daily to visitors from Monday-Saturday, 9.30pm-4.00pm & Sundays 12.30pm-4.00pm.

Our Sunday Services are:




8.00 am – Said Holy Communion 




(Traditional language, from the Book of Common Prayer)




10.30 am – Choral Eucharist




(Contemporary language, from A Prayer Book of Australia)




6.00 pm – Choral Evensong




(Alternate weeks, traditional and contemporary language)



During the week:
Mon-Fri
7.30 am – Holy Communion
8.45 am – Morning Prayer

Wed
10.00 am – Holy Communion (BCP)
5.15 pm – Choral Evensong

City of Adelaide Band - Concert
07/08/2016 / 2:00 pm - 3:30 pm
The City of Adelaide Band with Guest Artists: "High Spirits Harmony" a Cappella ensemble. Free community concert. Sunday August 7:  2:00 - 3:30 pm
Anglican Schools Australia Conference - Eucharist
13/08/2016 / 5:30 pm - 7:00 pm
Anglican Schools Australia annual conference will be held in Adelaide this year. Conference Eucharist to be held on Saturday 13th August at,…
The Liturgical Farewell to Archbishop Jeffrey Driver
19/08/2016 / 7:00 pm - 9:30 pm
Archbishop's final service and laying up of the Pastoral Staff. Friday August 19, 2016 at 7pm. The congregation is requested to be…
Shakespeare 400 - Choral Evensong Series
28/08/2016 - 11/09/2016 / 6:00 pm - 7:45 pm
In the year that marks the 400th anniversary of William Shakespeare's death, St Peter's Cathedral Adelaide invites you to come and explore…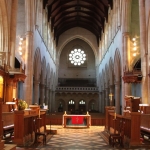 The service/pew sheet and weekly notices for this week can be found by clicking the link below: 0731 Pentecost 11 10.30am
Like, follow, watch and connect with St Peter's Cathedral online.