'Telling Stories' Exhibition – Adelaide Fringe Festival
Saturday, February 18, 2017

to

Sunday, March 5, 2017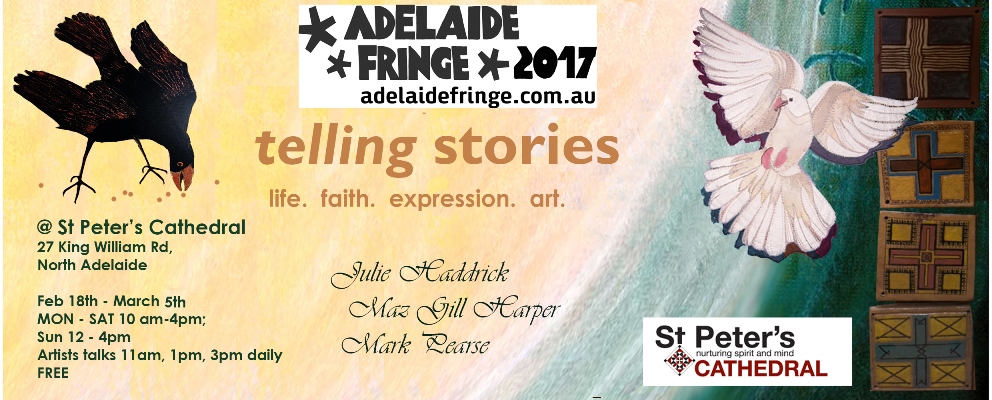 Three Artists. Arresting narratives in a variety of form, text, texture and vibrant colour. Explores spiritual truth. Reflects the wonder of creation and creativity.
Maz Gill-Harper's large canvasses interpret and invite conversations about biblical content. The current body of work is executed in impasto acrylic with collage and inscribed text and focuses on the parables of Jesus.
Mark Pearse: The potter and his clay. The material that speaks of our daily living, of home and family. The bowl, the cup, the cooking vessel. The sculpture, dry from the earth, speaks to inspire, to challenge, to try and find a way, giving expression to a brief journey.
Julie Haddrick on Fabric: Art in stitches. Measured. Decorative. Beautiful. Be enriched by the intensity of juxtaposed colour!
Open Daily: 18th February – 5th March. 
Times: Monday – Saturday, 10.00am – 4.00pm, Sundays 12.00pm – 4.00pm.
Artist Talks: 11.00am, 1.00pm, 3.00pm
Free Entry
Presented by:
Julie Haddrick's life journey is evident in her hand painted, dyed, printed and stitched textile artworks. Art and life: inseparable. Nature's transience and imperfection inspire. Influenced by Japanese philosophy of Wabi Sabi , her stitching is measured, decorative and purposeful. An award winning artist, Julie has exhibited and taught internationally.
MAZ GILL-HARPER (Tasmania) graduated from UTAS School of Art in 1992, and has focused on the interpretation of the rich resource of biblical content. She has exhibited in Tasmania and interstate and has been a Finalist in the Blake Prize for Religious Art. She has also published three books.
Mark Pearse: potter, sculptor and painter established Pearse's Pottery,Yankalilla, 35 years ago. Clay speaks of everyday
life. His sculpture, carved creation totems and sculpted scenes, speak to inspire, to challenge, to find a way — giving expression to a to a brief journey. Mark's bold, colourful paintings explore historic stories.