Organ Recital – Mark Joyner
Sunday, December 16, 2018 at 12:00 pm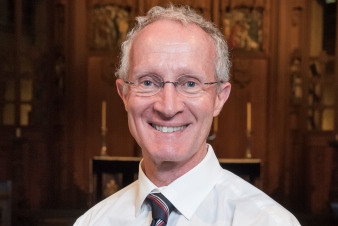 Assistant Cathedral Organist Mark Joyner will give a short organ recital of popular organ music on Sunday 16 December, 12.05pm. Free.
Programme:
Fugue in G minor BWV 578, JS Bach
Air (from Suite in D), JS Bach
Adagio, Albinoni/Giazotto
Trumpet Tune and Air, Henry Purcell
An Old English Melody Samuel Sebastian Wesley, arr. AE Floyd
Tuba Tune, CS Lang
From Pieces for Musical Clocks, Joseph Haydn
Menuett
Tempo di Menuetto
Marche
Toccata (Suite Gothique), Léon Boëllmann
Notes on the music
Fugue is the ultimate expression of counterpoint – the principal musical language of Bach's day. This wonderfully energetic work, with its gradually unfolding theme, or subject, dates from Bach's time at Weimar, (1708-1717) where he was court organist and director of chamber music to Duke Wilhelm Ernst. The 'Air in D' is the second movement of Bach's third Orchestral Suite, dating from around 1730 and translates virtually note-for-note to the organ. It is sometimes known as the 'Air on the G string', because of a later arrangement for violin and strings.
There is considerable doubt surrounding the 'Albinoni Adagio', in that it was most probably not composed by Tomas Albinoni, (1671-1750)! It is likely to have been written by the twentieth century composer Remo Giazotto, possibly based in part on some Albinoni fragments. Nevertheless, it most popularly goes by this name and has been made famous by its use in a number of film scores, including 'Gallipoli', from 1971.
The 'Trumpet Tune and Air' is sometimes misattributed to Jeremiah Clarke. Clarke's 'Trumpet Voluntary' is similarly sometimes misattributed to Purcell. Its well-known main tune is contrasted with a quieter, middle section.
The tune in 'An Old English Melody' is probably a folk tune. It was harmonised and added-to by Samuel Sebastian Wesley, (1810-1876). Wesley taught Dr GB Arnold, (1832-1902) organist of Winchester Cathedral, who in turn taught Dr AE Floyd, (1877-1974) organist of St Paul's Cathedral, Melbourne. Floyd taught Lindsay O'Neill, (1924-2002), who in turn, was one of my teachers.
Haydn composed thirty pieces for the musical clock, or flute clock. These mechanical devices within clocks, marked the hours with short, cheerful pieces.
Tuba tunes are pieces composed for the organ stop of the same name – typically the loudest stop on the organ. This one, by the NZ born organist, composer and school music teacher, Craig Stellar Lang, (1891-1971) is one of the most popular.
The 'Suite Gothique' is a four movement work by the French composer Léon Boëllmann, (1862-1897). The ebullient 'Toccata' is the final movement.
Mark Joyner