Creation Care Seminar: Imagining the Future, Festival 150
Saturday, September 21, 2019 at 9:00 am

to

1:00 pm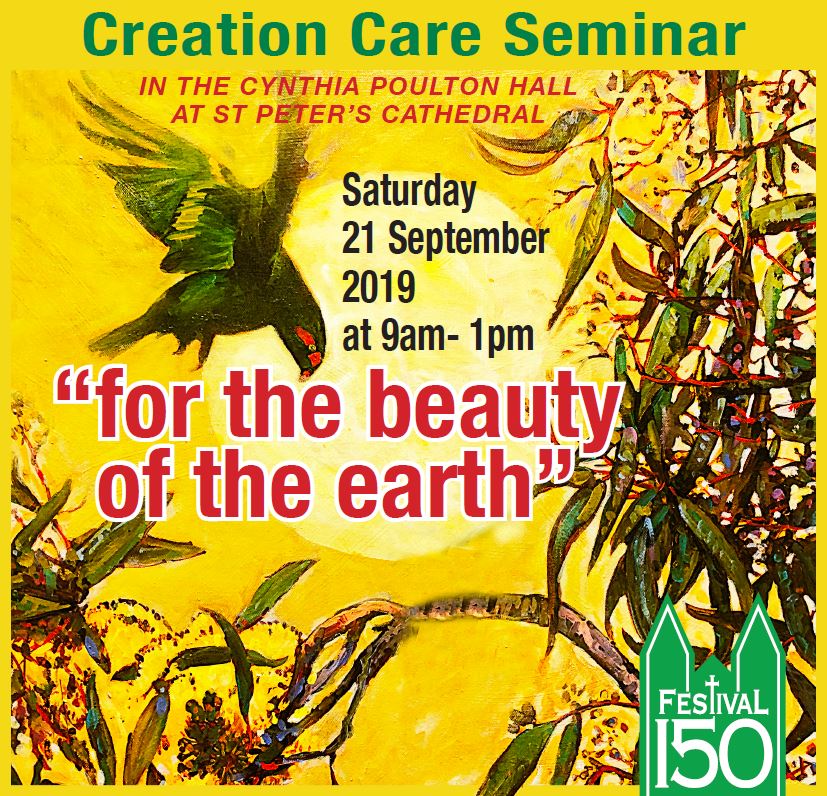 On Saturday 21 September, 2019, join us for a Creation Care Seminar exploring the theme "for the beauty of the earth". Talks given by The Rev'd Dr Theo McCall, The Rev'd Dr Vicky Balabanski, The Rev'd Dr Graeme Garrett, and Dr Jan Morgan.
Tickets: $12 adult and $8 concession, including morning tea and a Cathedral 150 hessian shopping bag!
Held in the Cynthia Poulton Hall at St Peter's Cathedral, and sponsored by the Anglican Creation Care Network.
Book your tickets at www.trybooking.com/BDNFF today!
---
The Rev'd Dr Theo McCall
The Greenie's Guide to the End of the World
Theo is the Chaplain of St Peter's College, Adelaide, and works across the whole school (ELC – Year 12). He is the Senior Chaplain for Anglican Schools in South Australia. Theo has a passion for the links between ecology and eschatology. His book, The Greenie's Guide to the End of the World: Ecology and Eschatology (Adelaide, ATF: 2011), focuses on developing the key ingredients of a model of ecological eschatology. In October 2013 Theo attended a meeting in Canterbury of spiritual leaders and psychologists led by Martin Seligman. He co-edited the proceedings of this meeting in a book entitled Being Called (Santa Barbara: Praeger, 2015). Theo has presented and run workshops on wellbeing widely.
The Rev'd Dr Vicky Balabanski
Expanding our vision of Christ's Body through the Letter to the Colossians.
Vicky is Senior Lecturer in New Testament at Flinders University, South Australia, and Director of Biblical Studies at the Adelaide College of Divinity and the Uniting College of Leadership and Theology. She has lived and worked in various parts of Europe and the Middle East, including a year in Jerusalem as a post-doctoral fellow at the Hebrew University. She is a writer and editor in the international Earth Bible Project. Her Earth Bible commentary – Colossians: An Eco-Stoic reading – will be published by Bloomsbury T & T Clark early in 2020.
The Rev'd Dr Graeme Garrett and Dr Jan Morgan
Does beauty say adieu? The call of beauty in a disfigured world
On the Edge: A-Way with the Ocean (Morning Star Publishing, 2018) is jointly authored by Graeme Garrett and Jan Morgan. Graeme is an Anglican priest and theologian who taught for many years at St Mark's National Theological Centre in Canberra and is currently a member of the adjunct staff of Trinity Theological School, University of Divinity, Melbourne. Jan's ministry has been in Clinical Pastoral Education, and more recently in attending to Earth's cry and Earth's grief. She has developed an innovative program in eco-ministry at the Uniting Church Pilgrim College, University of Divinity, Melbourne.