24 Hour Sing 2019!
Saturday, September 28, 2019 at 7:00 pm

to

Sunday, September 29, 2019 at 7:00 pm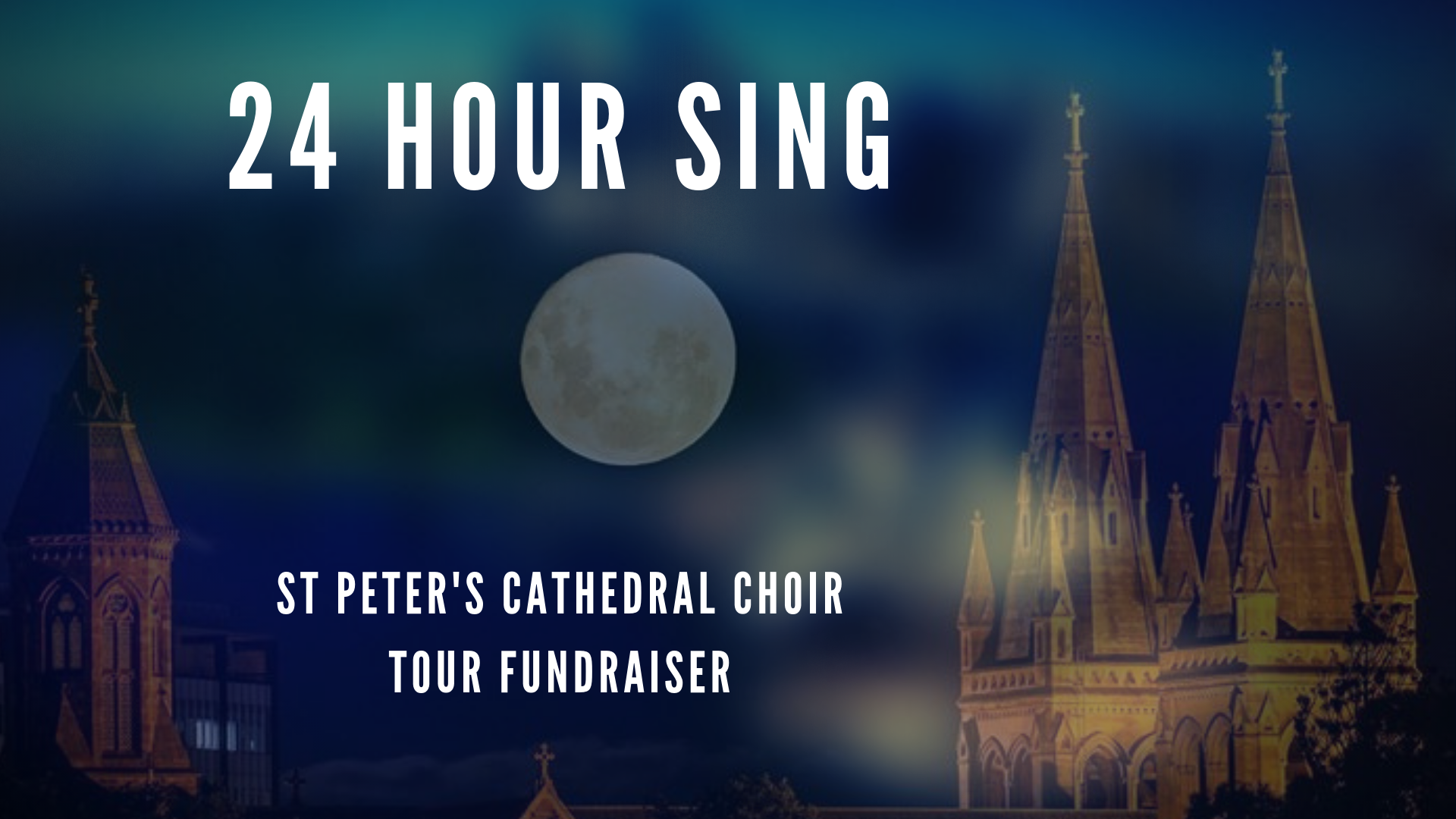 Please support our Cathedral Choir as they prepare to tour to England, leaving on Boxing Day this year!
Choristers will embark on a mammoth 24 Hour Sing fund-raising venture on Saturday 28/9.
• All are invited to a Cocktail party and concert as the first hour of singing gets underway at 7:00pm.
• 8:00pm Concert & Hymn Fest
• 10:00pm Late night jazz
• 11:00pm New Music Workshop featuring Adelaide Composers Lily Coats, Hamish Madden, and Rachel Bruerville
• A handful of lay clerks will attend the 8:00am service on Sunday 29/9 to sing the familiar and much-loved BCP setting by Merbecke.
• The Friends of St Peter's Cathedral are sponsoring the Mass setting at 10:30am on Sunday 29/9.
Repertoire Choices for Cocktail party concert below:
Make your bid on the night – pay by EFTPOS or cash
Anthems/Motets
Chilcott: Were you there
McKie: We wait for thy loving kindness
Rutter: For the beauty of the earth
Mozart: Ave verum corpus
Byrd: Ave Verum corpus
Lauridsen: O nata lux
Bach: Jesu, joy of man's desiring
Bruckner: Locus iste
Stanford: Beati quorum via
Bach/Gounod: Ave Maria
Franck: Panis angelicus
Walford Davies: God be in my head
Grüber: Silent Night
Kirkpatrick: Away in a Manger
Hymns
Choose from the red hymn book – Ancient and Modern (min bid $5 for two verses)
What is the money for?
• The Cathedral Choir is going on a tour to England departing Adelaide on Boxing Day 2019. Over the three week tour period the Choir will sing concerts and services at Chichester, Canterbury and Coventry Cathedrals, Westminster Abbey and New College Oxford Chapel, and the Temple Church, London.
• Money raised during the 24 Hour Sing will go into the general pool of funds and used to cover tour expenses.
• The cost of the tour is $6500.00 per person.
• Some of our choristers are in need of generous financial support – please speak to the Director of Music, Leonie Hempton, the Tour Manager, Penny Bowen, or the Dean if you would like to help in this way.