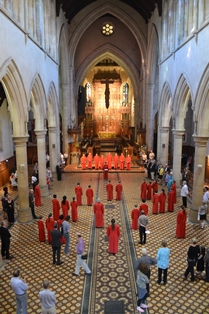 Dennis Olsen to lead a star-studded cast for a unique celebration of Shakespeare in an 'Empty' St Peter's Cathedral this October.
Award-winning South Australian actor and singer, Dennis Olsen, will lead a cast of actors in a special and unique performance of extracts from plays of the Bard who knew us better than we know ourselves.
In the 400th anniversary of Shakespeare's death, the iconic St Peter's Cathedral will be emptied of all its pews for this unique, dramatic and musical tribute to William Shakespeare.
Devised and directed by Rob Croser, Co-Founder Independent Theatre and director of numerous plays, the night will explore The Bard's take on matters of humanity and faith.
The evening promises to be a very special and deeply moving one, as actors bring to life scenes from well know plays using a variety of spaces and positions in the Cathedral.
Local soprano Emma Borgas and Organist Joshua van Konklenberg will fill the Cathedral with a glorious array of music.
Shakespeare in the 'Empty' Cathedral is on One-night-only! Thursday October 6th, beginning at 7.00pm. Tickets $50, can be purchased via www.trybooking.com/MLVM or through the Cathedral Shop.
Proceeds support the Cathedral Organ Restoration Appeal.