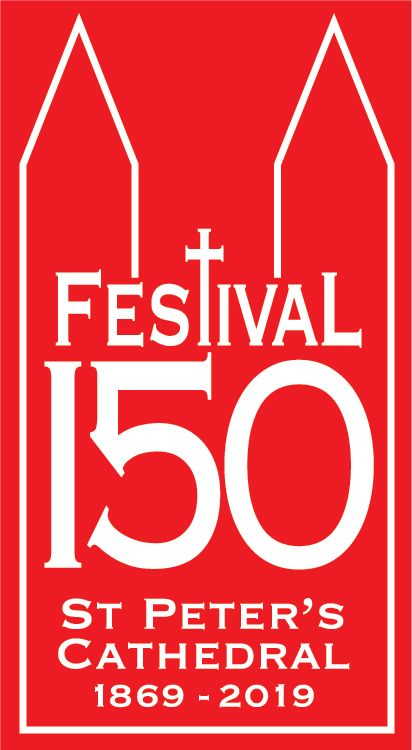 Cathedral 150th: A sermon by The Most Rev'd Geoffrey Smith, Archbishop of Adelaide
Ez 34.11-16
Ps 34.1-10
Acts 12.1-11
John 21.15-22
One hundred and fifty years ago yesterday, June 29, 1869, the first Bishop of Adelaide Augustus Short, laid the foundation stone for this Cathedral. That day was a Tuesday and it was as it still is, the feast of St Peter and St Paul. According to a report in the South Australian Register a few weeks later in July 1869, 'the erection of a building of this kind has ever been an object of particular solicitude with his Lordship, and arrangements having been so far perfected as to admit of this initiatory act, the 22nd anniversary of his consecration to the Episcopacy afforded an appropriate opportunity for the ceremony'. I couldn't have put it better myself!
Apparently, again according to the Register story, the weather on the day was cold and bleak and the leaden clouds threatened rain which fortunately held off. At 1 o'clock a company of ladies and gentlemen numbering around 120 partook of a sumptuous lunch at Bishops Court. Amongst those present were Sir James and Lady Edith Fergusson the governor and his wife. According to the report of the Register, 'there were no speeches or other proceedings of interest to the public'. As 3 o'clock approached the Albert bells rang and more than 1000 people gathered on the cathedral site. The military were present in full force along with the Honourable the Treasurer, the President of the Legislative Council, members of the Legislature and distinguished colonists. At 3'o'clock a procession including the lunch guests, the choirs of Trinity Church, Christ Church and St Pauls, and 20 clergy moved down from Bishops Court for the laying of the foundation stone.
St Peter's day was very significant for Bishop Short. He had attended St Peter's school at Westminster and had been consecrated a bishop on St Peter's day in 1847.
The gospel reading for St Peter's day which was read just a few minutes ago includes the account of a conversation between Jesus and St Peter after Jesus' resurrection. Peter of course had publicly rejected Jesus while Jesus was on trial on the night before his crucifixion. Peter had denied being a disciple of Jesus on three occasions as he waited in a courtyard outside the building in which Jesus was being held. After his resurrection Jesus joined a number of the disciples who had gone fishing. Jesus was on the beach and had breakfast with the disciples, and then had the conversation with Peter that is part of today's gospel reading. Perhaps reflecting Peters' three denials Jesus asks Peter three times-do you love me? Three times Peter assured Jesus that he did. Each time after Peter's assurance Jesus responded with a commission for Peter. The first commission – feed my lambs. The second-tend my sheep. The third commission-feed my sheep.
The accounts of the laying of the foundation stone make the whole thing seem very grand and I am sure it was impressive. It's tempting to look back from today and think those were the good old days. But even though they might be old, they weren't necessarily good.
In 1848, just one year after Bishop Short arrived in Adelaide, Governor Robe had approved a grant of land in Victoria Square for the construction of the cathedral, but the citizens of Adelaide rose up in protest. They wanted the public square to remain a square for the public. The question was finally decided in the supreme court and in 1855 the land grant was overturned which must have been very disappointing for Bishop Short and those planning the cathedral. Bishop Short finally bought the land for this cathedral seven years later in 1862, with another seven years passing before the laying of the foundation stone twenty-one years after Shorts arrival in Adelaide. That's a long process. And the construction of the building only went ahead because of the generosity of individuals. There were no government grants available. The building was built in stages because the money kept running out, with the whole thing taking thirty-five years from beginning to end. They weren't the good old days. They were very challenging times. This project was only completed because of great persistence and generosity.
Bishop Short didn't want a cathedral for his own enjoyment or to satisfy his ego. Certainly, he thought it was important for a diocese to have a cathedral and that's true it is. But even more importantly the construction of the cathedral was part of putting into action the commission of Jesus to St Peter. Feed my sheep. Tend my lambs. And Short's focus wasn't on the faithful few. He was deeply committed to spreading the good news of Jesus Christ to everyone. He had a very broad view of 'the sheep' and 'the lambs'. He knew everyone in the community needed to know God's love and needed to be helped and nurtured in their faith and life to reflect the abundance and goodness of God.
Short's address at the laying of the foundation stone, makes this broad view clear. In his address he reflected on his role as bishop which he said was, "to set in order the things that are wanting, to strengthen the things that remained, to oversee the flock of Christ and see that no part of that flock perished through being left without a shepherd and without a shepherds care". This cathedral was to be a very significant part of that work, and it has been since the first service was held in the incomplete building in 1876.
When Jesus spoke to St Peter about tending and feeding his sheep, he had in mind a Middle Eastern shepherd whose role included keeping the sheep safe and providing water and pasture for them. It is an exceptionally positive role for the good of the sheep, and a role which sometimes involved danger and risk for the shepherd. God is the ultimate shepherd and God's will for all people is that we might know his love and be at peace with him through Jesus, and be at peace with each other and in fact with all of creation. God's will is that we might live an abundant life contributing to the good of others and all creation. All who call Jesus Lord have an important role in helping this vision of God to become reality.
In a society where Christianity is seen either as irrelevant or negative or even harmful we need to be energetically focussed on living the positive message that is Jesus, and the life giving reality of God's love for all. A cathedral has a special role in this. A cathedral is high profile-visible in a way that most parish churches are not. It must have wide open doors and be especially welcoming to all. But the building itself is not enough. This is a mission for people, for people who call the cathedral 'their place'. I am pleased to say the people of this cathedral are engaged in this work-helping to feed and tend the sheep and lambs of Christ so that all might know the quality of life only God can give.
Today we certainly look back at that day one hundred and fifty years ago, and we give thanks. We give thanks for the perseverance of Bishop Short and others involved with the planning of the cathedral especially in times of difficulty or frustration or controversy-of which there was no shortage. We give thanks for generosity of the benefactors who made the cathedral construction possible. Without them we wouldn't be sitting in here. And we give thanks to God for all the thousands and thousands of lives that have been touched by God, blessed by God helped by God in this place.
But that's not all we do. Today is not just about looking back, it's very much about looking forward. This cathedral was built to be a base for outreach and care and nurture. This is not a museum this is a working house. A beacon of hope. A sanctuary for those in need. A place were humans worship the God who loves us, and in the process are met by God in God's love. Just as was the case in 1869 there are many in this community today who don't know the love and joy and peace that God brings. Who don't know the trustworthiness of God. Who don't acknowledge God the creator of everything. We have much to do. The mission must go on.
Today we thank God that we have this building from which to do that work and rededicate ourselves to be part of it in the power of the Holy Spirit.
Amen.