Symbols of Women Exhibition
Sunday, November 10, 2019

to

Saturday, November 16, 2019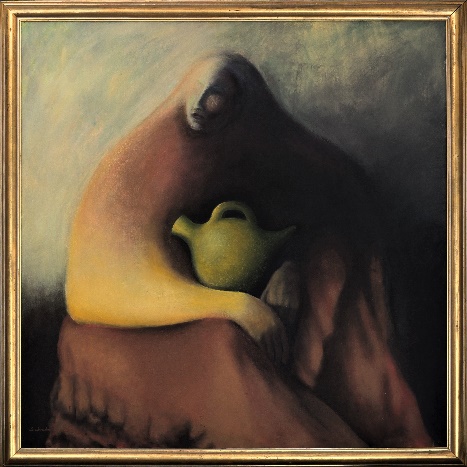 Pictured: Woman with Water Container
"A collection of works paying homage to the beauty and strength of women.  Their spirituality, mystery and serenity emanate from the canvasses." – Salvador Loreto
---
For seven days only, take the opportunity to immerse yourself in the magic of this stunning and unique exhibition by Spanish born artist, Salvador Loreto, on display at St Peter's Cathedral.
A Flamenco singer and former Bullfighter who faced death in the bullring, Loreto the artist pays homage to the beauty and strength of womanhood.
In this collection of works, Loreto has outdone himself with his stunning bold statements of colour, his sensitivity of the subjects and the beautiful sensual lines of the female forms.
In this exhibition which has taken several years to prepare, his work demonstrates his eclectic talent across several genres, crossing many stylistic boundaries, experimenting with colour, techniques and combining cubism with surrealism to achieve his own style he calls 'Loretismo'.
Famous for his 2 historical paintings of the late Don Dunstan before his death, Loreto will also be daily resident artist in the Cathedral during the exhibition painting the portrait of a former Premier of South Australia, The Hon. Rev. Dr Lynn Arnold AO, who will be sitting for him during this time.
---
Exhibition Dates:  10 – 16 November 2019
Times: Sunday 12 noon – 3:00pm
Monday 9:30am – 1:00pm
Tuesday – Saturday 9:30am – 4:00pm
---
For more information: 
Contact the artist on 0401 497 800 or Veronica Vargas on 0438 366 931
Email: sfloresloreto@gmail.com
Website: www.salvadorloreto.net.au
Salvador Loreto gratefully acknowledges the support of St Peters Cathedral, the Hon. Rev. Dr Lynn Arnold AO & Veronica Vargas, Triana Flamenco Dance Studio www.trianaflamenco.com  
Photo of painting by Aussie Kanck.