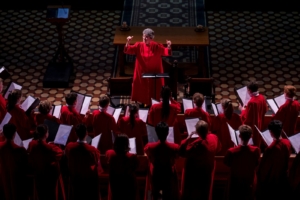 Click the title above to view the official 2019 flyer!
Chorister for a Day, held annually in September, is the major recruiting opportunity for trebles in the Cathedral Choir.
St Peter's Cathedral Choir offers an opportunity to make lifelong friendships and receive excellent musical training.
Children aged 7 – 12 spend time in the Cathedral learning what it's like to be a Cathedral chorister.
Children are taken on a tour and learn the secrets of the Cathedral. They rehearse with the trebles of the choir and watch a video about life in the Cathedral Choir. Each child is "buddied-up" and experiences first-hand what it is like to be a Cathedral chorister. The day ends with the children singing evensong with the full Cathedral Choir.
Parents are warmly invited to afternoon tea before evensong, and encouraged to stay for the service and see their child sing with the choir.
If a child is interested in coming to the next Chorister for a Day, bookings are essential – register now at bit.ly/cfad2019, or call the Cathedral Office on 8267 4551 for more information. Following Chorister for a Day, children wishing to do so are invited to audition for a place as a Cathedral chorister.
Learn more about Choir and music at St Peters Cathedral here: Giving Voice